A celebration of creativity and mental wellbeing in Leeds.
Thousands of people came together to celebrate the seventh Love Arts Festival in Leeds, a favourite on the Leeds cultural calendar.
The theme for the Festival was 'journeys' and the result was an eclectic mix of talks, films, workshops, music and theatre performances. Fifteen exhibitions also featured in the programme, including the annual artwork exhibition by members of the Arts and Minds Network, their biggest show to date and seen by more than 171,000 people.
The Festival took place over 15 days with an aim to start conversations about mental health and challenge stigma while helping people in recovery from mental ill health connect with the vibrant culture in Leeds.
Love Arts Festival is organised by the Arts and Minds Network, part of Leeds and York Partnership NHS Foundation Trust, in partnership with a whole host of organisations and artists.
Linda Boyles, Arts and Minds Development Manager, said: "For many years Leeds and York Partnership NHS Foundation Trust has supported the development of arts and creativity in promoting health and wellbeing.
"Art is a fantastic way to explore complex issues as well as encouraging participation and inclusion of those affected by mental health issues."
One of the highlights of the festival was the Love Arts Pop-up at Leeds Art Gallery which showcased a range of pop-up events linked with mental wellbeing.
These included: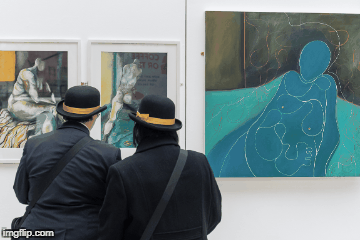 a bus that morphed into a gallery
a 'happy cloud' making machine by internationally acclaimed artist Stuart Semple
dancers from Dance Action Zone Leeds who performed work about their own mental health
'Art Doctors' who gave out bespoke 'art prescriptions' tailored from their conversations with the public
a giant paint by numbers mural created in a day
creative dialogues with Tea & Tolerance
a pop-up performance by Opera North
The event, which coincided with the reopening of the Gallery following a refurbishment, saw more than 2,500 people get involved.
Linda added: "We never imagined when we started the festival seven years ago, that it would grow to be such a well-loved and anticipated event. Love Arts has helped chip away at the stigma of mental illness, by showcasing a wealth of undiscovered talent and demonstrating how creativity can help people recover.
"Feedback from this year's event has been great. The positive comments are particularly around how the free events were spaces where all voices were equal and there was a warm welcome for all. Love Arts Festival was also commended on being accessible for everyone, which is so important. We'll now continue to work with our partners, supporters, and volunteers, and can't wait for next year's Love Arts Festival!"
---